So I've been thinking about NSMB2 again.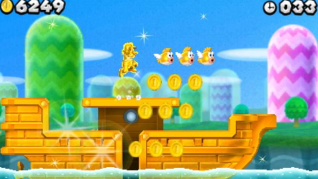 Being released mere months before it's HD console brethren while looking too similar to the previous entry, a lot of fans, independent reviewers, and players in general seem to write this game off as bad and don't exactly detail why, past the fact that it's extremely similar to the previous NSMB Mario games, and the coin gimmick being a uninspired idea and not useful.
I mean, those are very valid points
(this

is

the only mainline Mario game since The Lost Levels that introduces no new characters aside from enemy subspecies!)
, but from what I've seen, the game isn't buggy, the DLC isn't intrusive, and the level design quality seems up to NSMB par despite the coin gimmick and allegedly hiring inexperienced devs. Most other problems with this game seem like they could be applied to any other NSMB game.
What do you think about it?
Is it uninteresting due to it being all-to-similar to the NSMB games? Or is there something I'm not seeing here?
Or maybe it's because it has no relation to the original NES Super Mario Bros 2 game ;(