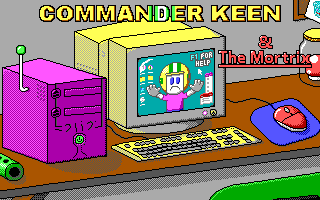 Hello, MFGG people! On January 7, I released a mod of Commander Keen 2 on my website. Now, I decided to release it here for those that are interested (if there are any, that is). This mod, if you somehow skipped the title and screenshot, is called The Mortrix. It takes inspiration from Wario vs. Windows and Birdo vs. Macintosh, while trying out new ideas with the Keen 1-3 engine and features of Keen 2. The Mortrix contains as much levels as the original game, having a total of 16 (1 of which is a secret level). It also shows off some skills of mine that I haven't demonstrated here very often, such as original characters (barring cameos and mentions, that should be all except for Commander Keen himself and Nisaba) and level design.
Here are screenshots:
You can find a download link to my mod on the Quillax Ship:
http://quillaxship.com/game_detail.php?ID=12
Keep in mind that since Keen 2 isn't free, KEEN2.EXE isn't included within the mod, so you'll need you get your own copy of the executable. If you don't have the game (which is probably the case for most of you here), you can get it via Steam's almost-complete Commander Keen pack for a few dollars:
https://store.steampowered.com/app/9180/Commander_Keen/
If you have it and located it (in Steam, go to the games library, then Properties > Local Files > Browse Local Files > base2), copy KEEN2.EXE to this mod's directory and run the mod via Mortrix.bat. I suggest doing this with DosBox, which can be found here: 
https://www.dosbox.com/
(dragging Mortrix.bat to DosBox will work just fine)
Also, The Mortrix uses tons of SGA, a writing system that's used in the Keen games. Reading SGA isn't required to beat the mod, but I think a lot of the messages I put into the windows in the mod are rather humorous. If you want to learn SGA, you can just look it up.
So, feel free to say something about The Mortrix here!