I'm working on a Final Fantasy 1 rom edit to be a MLP game. It works out, cause there's six main characters in the show, and six classes in game.
I have most of the ideas, but to really get things moving along,  I'm going to need good sprites.
I'm trying a little myself, but I'm not really a good spriter, so I would like some sprite help and some input.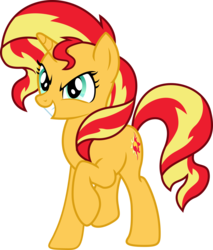 For instance, in place of Garland, the game will have this character, Sunset Shiimmer.
It actually works well. They're both villains who turned against the kingdom. (Shimmer gets redeemed in the first Equestria Girls movie, but her pre-reformed version is real good for this hack.
So I'm attempting to make the sprite based on that vector. Being NES, it has to follow the 3 color rule.
How is this? Is it too doofy?, Is there a way  I could improve it?
I'll post more about what I need and whatever sprites I try to attempt.