Hi everyone here. I haven't posted on this board in a long time, though I've popped into the Discord recently. I never really posted much because I didn't have much going on. 
However, I went on a very interesting video game excursion, which I'd like to share here. A game from quite long ago, which I've known about, but never actually tried until now.
You know the Swordquest games, right? Even Angry Video Game Nerd did a video on them. If you don't know, here's the jist:
Spoiler
I've known about this game and its mystique for some time, but I've never actually played any of the games. I've had curiosity for sure, though. Well I played an emulated version of it! Contest aside, at least it would be a good puzzle solving adventure game, right? Well here are my impressions...
The premise:
You are in a dungeon with 12 rooms, corresponding to the 12 signs of the zodiac. You're looking for clues. These clues are a pair of numbers, which correspond to pages in an included comic book, which panels were hiding words inside them. For instance, the first clue you get says "16 4", so that means page 16, panel four, and you find a word hidden in the drawing.
Different items can be found in every room, and you have to get the correct combinations of items into the correct rooms in order to obtain clues. For instance, this is the Virgo room, as indicated by the icon on the screen, and in this room is the necklace. The inventory is on the bottom row, and you can only hold 6 items at once.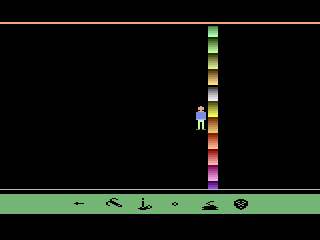 Some rooms can only be accessed by completing an action sequence, like getting past this "nuclear waterfall", as AVGN put it. Some items can do additional things during gameplay, such as letting you get past the room with arrows, or lighting a dark room.
The game is very minimalistic. The scans of the instruction manual tell you what all the symbols for the items and zodiac signs are, so you at least know what everything is.
So I just have to get the correct items into the correct rooms, right?
...I was going into this thinking there was going to be some puzzle solving, some sort of logic to the items and the zodiac signs, that things would make sense. Surely I should put the Water in the Pisces room, since Pisces is the Fish, right? Nope. It couldn't be the Water in the Aquarius room, cause that's where you find the Water in the first place. Reading on Wikipedia, Virgo is heavily associated with wheat. So I should put the Food in the Virgo room, right?
Nope.
I had nothing to go on. I tried many different combinations of items and rooms, but really never got anything. So after an hour or two I looked it up to see what you were supposed to do, and... oh boy. Turns out there is no sense to it. It's... very, VERY obtuse.
There are 11 clues, which must be triggered in the correct order.
The first one you get for free just by walking around all the rooms.
The second clue is obtained when you place the Dagger in the Gemini room. So, where do you figure out this is the correct answer? ...you don't. (Maybe the comic book offers a hint, I have yet to find that.) And that's the big problem for me. Comic book aside, there's no sense or puzzle solving to it, where you could figure it out. It's all just arbitrary. I thought the goal was going to be that every room needed a certain item, and you had to get every item in the correct rooms all at once. But no, it's much weirder.
As you get more clues, you need to place multiple items in multiple rooms to trigger the next. For instance, the third clue is gotten when you place the Hook in the Cancer room and the Rope in the Taurus room, again, with no clues to tip you off to the correct layout. Later clues use even more items to be placed in even more rooms at once, and you're not getting any hints!
It turns out that the only way to really figure things out is by guessing and checking over and over, but in the most tedious possible way. Think about it: You have 15 items on hand, and 12 different rooms. If you just had to put one item in one room, there are 180 different combinations, and you'll eventually find the Dagger=Gemini match. But including multiple rooms and items, the number of combinations you can have is colossal! If you rely on guessing and checking ad nausem, you're never going to figure it out. (Plus, some subsequent clues require you to use items you've already placed in other rooms again, so you can't just set them and forget them.)
Maybe my mistake was to approach this like as if it were a puzzle based dungeon, something like in an RPG that required certain items in certain rooms, and you would have to decipher which ones based on your observations and clues given, except there are no clues given to where everything goes. Again, maybe you would get a hint from somewhere in the comic book, but I didn't have that. I thought that's what this game was going to be like, but it seems the answers are completely unintuitive. But then again, maybe the entire point was to be obtuse, being a contest for a $25,000 medalion. (in 1982 dollars!) After all, only eight players successfully figured out the correct clues.
Here is the answer, btw:
There are 11 clues, but the entry form had only five slots. In the comic book, the words "prime" and "number" were in a different color, tipping you off that those are the correct ones. So the correct answers are the words found with clues 2, 3, 5, 7, and 11.
Regardless, the game has a famous air to it and is intriguing, and is worth looking at if you're curious to see it, or run through the nuclear waterfall.
Thoughts?