As you can probably tell, the MFGG forums have not been terribly active lately. Forum activity has declined steadily since 2015, the peak of the MFGG Renaissance. We reached an all-time low in February, when we had a grand total of four (4) new posts for the month. Ouch.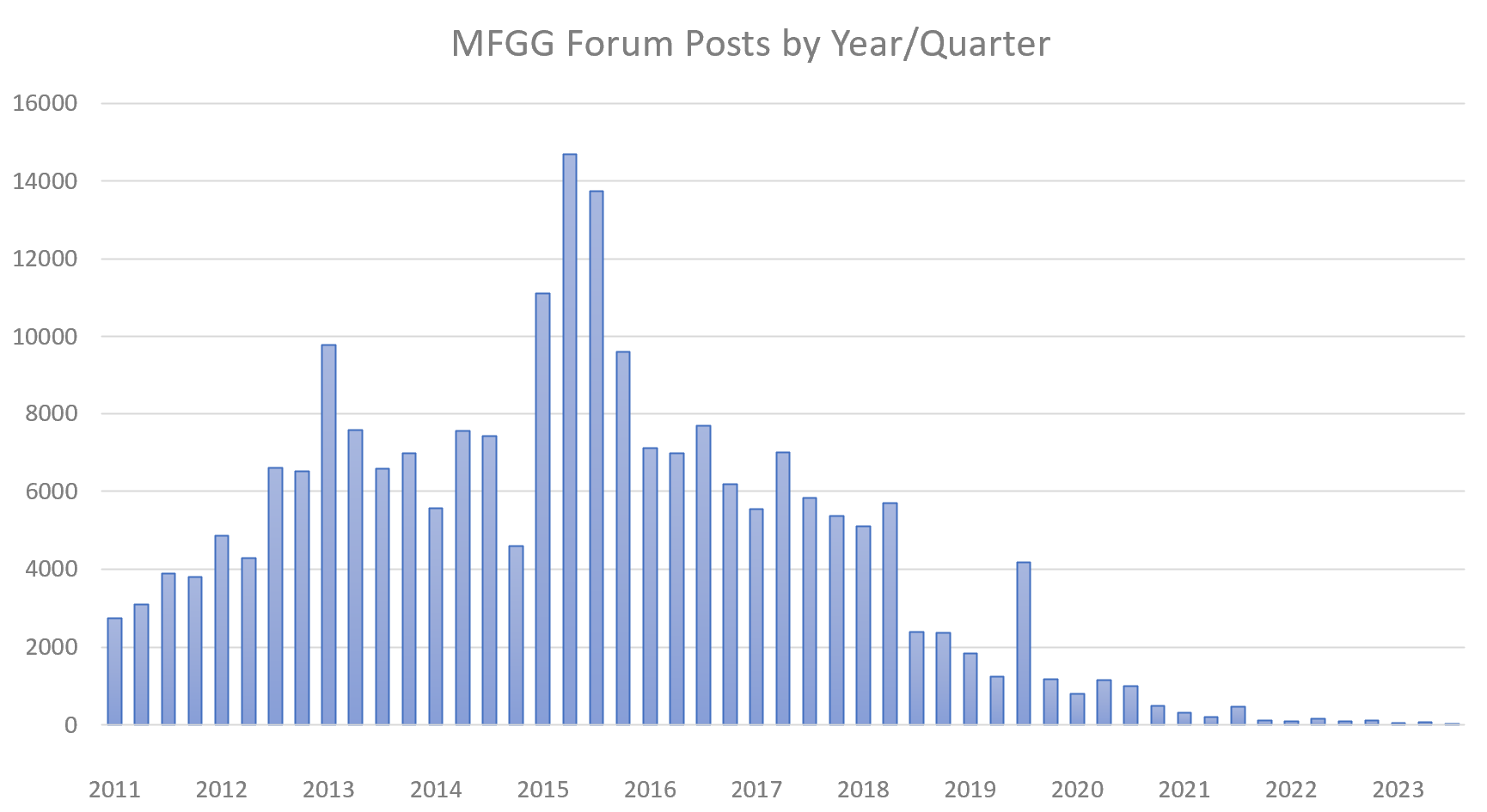 Fortunately, July has been a bit more active, and lately we've had a few interesting conversations on the forums.
I wonder if we have an opportunity to make this place a bit more lively again! I've heard a LOT of people express frustration over
X
Twitter and the direction it's been going. I've seen a lot of discussions about Twitter alternatives, as well as some people sharing nostalgia for the era when independent forums (like MFGG) held a greater influence on the online world. While big social media sites like Twitter aren't necessarily a direct competitor to MFGG - when used wisely, they can even attract new members and traffic to the forums and mainsite - there's no question that centralized, for-profit social networks have taken a bite out of places like MFGG.
Lots of people don't enjoy social media in 2023 - and MFGG should embrace that! You don't need to pay $8 a month for your posts to show up here, and we're never going to sell your personal data to make some guy in Silicon Valley ridiculously wealthy. Forums are far better than the convoluted "fediverse" schemes that some have proposed as a substitute for Twitter. Plus, forums have their own unique vibes - we're the only place on the Internet with an Evening Chill or a BooBerry skin, after all!
Relying solely on the MFGG Discord is also the wrong solution. Discord's lack of searchability - for both regular users and search engines - severely limits its usefulness for sharing games and resources, a task that forums excel at. While some newer users prefer chat-based communications, there's also a significant number of MFGGers who find the asynchronous nature of forums to be more enjoyable. I don't really post on the MFGG Discord, but all evidence I could gather shows the Discord is much less active than it was a couple of years ago.
I'd love to see a return of the kinds of events and competitions we did for so many years. Other than an occasional Game Jam,
we haven't done any kind of competition in over three and a half years
. That's really sad. It would be awesome to see a Sprite Competition or Drawing Competition on the forums this fall when the next planned Game Jam wraps up.
It would also be nice to see the current staff have a more visible presence on the fourms, or at least promote a new staff member who focused on the forums - it's not a big time commitment to log in to the forums every day or two and occasionally make a post or new topic. Even if you're just a regular member, something as small as getting in the habit of making a forum topic when you play a new game or
find a useful resource
could go a long way in renewing interest in the MFGG forums.
If the forums stay as inactive as they were in early 2023, it's worth asking whether the forums should be officially archived - having a comatose forum might do more harm than good by making people think that all parts of MFGG are dead.
Maybe promoting the forums is a lost cause - maybe interest in Mario fangaming just ain't what it used to be, or maybe people can't imagine online communication that isn't mobile-first and corporate-owned. I'm certainly not asking anyone to pour an inordinate amount of unpaid labor into becoming the savior of a sleepy Mario fansite, but I still believe the forums are a fundamentally valuable place that deserves more love.
Does anyone else feel the same way? Do you have any ideas for making MFGG - especially the forums - a more vibrant place?