12-07-2019, 07:52 PM (This post was last modified: 12-27-2019, 11:09 AM by BloodserGames. Edited 5 times in total.)
Story:
Bowser has taken Princess Peach,Daisy and Rosalina to a Mysterious Island with the Name of Lost Land. He has allied himself with several kings and they have colonized the entire Island, so everything is full of monsters and dangerous things. the quiet inhabitants of the Island are turned into stone and bricks, some have taken refuge in some parts of the Island, others have allied themselves with Bowser and The Lost Island goes to ruin. The only ones that can undo their magical influence are these 3 Princesses and the Queen of that Island called Princess Pansette. Unfortunately, they are in the clutches of the Koopa Turtle King, Bowser.
Mario listens to the distress calls of Princess Peach, and together with his brother Luigi he prepares to rescue them and expel the Koopas invaders from the Island!, help the plumber to go through 21 Wrlds, each time they are getting worse , this game is a project of Hello Mario Engine , a Game Editor Hello Fangaming , to add a good rating, and follow the game, I hope you like! 
SCREEENSHOTS:

Some of the Screenshots that are seen are from previous versions, most of the textures and Sounds in the game are getting better and better.
A Super Mario Bros fan game by BloodserGames
Supported Control Options:Only Keyboard
The Game includes 4 different versions of it: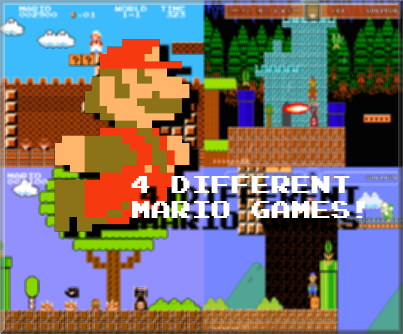 You can find the 4 Games here:
https://gamejolt.com/games/SMBLostland/386881
The Game will soon be uploaded here, when it is 100% Complete, new Powerups have already been added such as the lumberjack suit, the cloud flower and the Slow Fire Flower. Your current status is 43% complete 
 One Version of the Game for Emulators, Another created with Super Mario Bros. Game & Builder, The Old Version of the Game and the Current Version. (which is in Process).
You can download the game also on my website, among other games I have created there. :-)
https://bloodsergames.wixsite.com/bloodsergames
---
Maps| Difficulties


Coast of the Koopas |  Easy

Sugar Pines | Easy

ShyGuy Beach | Normal

Opal Island | Hard

Snowman Island | Hard

Carbon Mountain | Very Hard

Propulsive Clouds | Very Hard

Bowser Kingdoom | Challenging

Rainbow Land | Very Hard

Classic Mushrooms | Hard

Ghost Valley | Challenging

Lands of Silence | Elite

Tweeter Desert | Hard

Phanto Forest | Very Hard

Toy Industries | Elite

Goombas Cliffs | Hard

Autumn Forest | Hard

The Caverns of the Piranhas/Vegetable Garden | Normal

The Ludwig Spaceship | Elite

Frozen Volcanoes | Hard

Panser Kingdoom | Hardcore

Minus Maze | ????

The credits are found by clicking F1 on the game or by clicking on the block with an i in a circle
 I Hope You Like!